The NFL is unquestionably the most popular, and successful, professional sports league in the United States. Ratings, television contracts, and simply polls of sports fans will tell you the same.
Yet, the NFL, for it's embracement of new media, of fantasy sports, and technological advances, has a long history of being hyper-protective of their product. From players being fined for wearing the wrong kind of socks to refusing to negotiate with the referees, the NFL takes an approach that shows a league that feels they are invincible. And nothing embodies this feeling like the NFL blackout policy.
Absolute power corrupts absolutely.
The NFL blackout policy came into our lives in 1973. And here's where it gets crazy. The blackout policy currently in place is a compromise the NFL made. Prior to 1973, home games in their origin city were blacked out no matter how many tickets were sold. This applied to playoff games as well. Famously, the "Greatest Game Ever Played" between the Baltimore Colts and New York Giants in 1958 was blacked out in New York City, despite being sold out.
It wasn't until an act of Congress, which first threatened to "review" the NFL's antitrust exemption, later passed a law requiring the home games of a cities team be on television provided it was sold out 72 hours in advance. The only concession to this law came just in this past year, where teams can now air their games locally if they have 85% of their tickets sold but my split the revenue amongst all teams.
Which all brings us to this Sunday's game against the Falcons. The reasons for why the Chargers, a team that was once known for selling out every game, will now have their 6th game blacked out since 2010. The reasons for this vary, all with merit.
1) Economics
This is likely the biggest culprit. Though by no means is it the only one. The average cost for a family of 4 to attend a Chargers game is $466. The cheapest seat in Qualcomm Stadium, a seat in the no-alcohol section in the upper deck behind the endzone, is over $60 per ticket. Parking is $25. This is before you've had anything to eat or drink.
Meanwhile, the unemployment rate in San Diego has sharply risen since late 2008/early 2009, currently residing at 9.2%. It is not a coincidence that around the same time unemployment spiked in San Diego that suddenly families were not willing to spend the equivalent of a car payment on one Sunday afternoon.
2) The Los Angeles Threat
This seems to me to be more important than local San Diego media is willing to give it. In mid-2010 a plan was released to build a state-of-the-art stadium in Downtown Los Angeles. Almost immediately rumors began flying as to what NFL team would relocate to Los Angeles. Anytime this story comes up, the Chargers are at the top of that list. Previously existing in the AFL as the Los Angeles Chargers, the move back seems almost pre-ordained. From a business perspective it makes sense. It would be an increase from the 28th television market to the 2nd. It would provide the Spanos family with a new stadium that they have been asking for for a decade.
All of which means zero to those that have grown up a San Diego Chargers fan, not a Los Angeles Chargers fan. Sports are unlike many businesses in that they create a public trust in their community. If Apple existed in Columbus, Ohio, they'd still be Apple and people would still line up around the block to buy the newest iPhone. Sports franchises are different. They are tied to their community, they create pride in one's community and they create an emotional attachment to their fans that is rivaled only by popular culture and personal relationships.
And for 2 years we have been subjected to a very public courting by Los Angeles of the team we all have grown up knowing as the San Diego Chargers. The Chargers have not publicly said they have any plans to move to Los Angeles. But they won't say they don't either. Eventually this will wear on fans. At some point, if you believe something you love is going to leave you, you begin to distance yourself emotionally. Keep yourself at arms length.
3) Lack of Recent Team Success
I give this argument very little credence. Because it implies that the team currently, or over the last 3 years, has been bad. Mediocre? Perhaps. Underachieving? Certainly. But they've played meaningful games into December over the past 3 seasons despite failing to make the playoffs. This isn't the 2003 Chargers.
The other argument tied to team success is the Norv Turner issue. There are some who believe that the Chargers fans are rebellion against the team for resigning Turner for this season. I believe fans were, and are, angry about that issue. But so angry that they won't go to games? That's cutting off your nose to spite your face.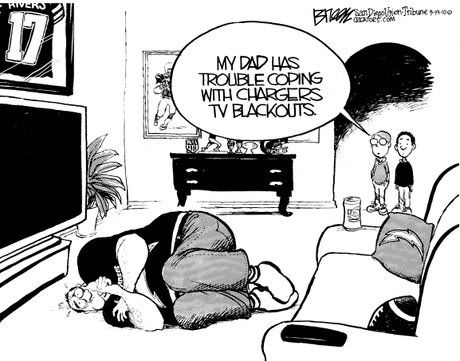 The fact of the matter is this. Blackouts don't work. If anything, they hurt. In 2006 the Chicago Blackhawks were blacked out locally per their owners belief that airing the games locally was a disservice to their season ticket holders. The Blackhawks, in an Original 6 city filled with crazed hockey fans, had the 2nd lowest attendance in the NHL. Yes, the team was not good that year but, as a comparison from the same city, this year's Chicago Cubs (currently 33 games under .500) have the 10th highest attendance in MLB.
People, no matter how emotionally invested, will find an alternative. If you keep the Chargers out of the cities consciousness long enough, people will find other ways to fill their Sunday afternoons in the Fall. And should that happen, it softens the effect of moving the team to Los Angeles. Don't be confused. The Chargers could have this game on television this weekend. They could have bought the remaining tickets, or utilized the new 85% rule. They choose not to.
Don't be surprised if fans choose not to come back.