The week of the Chargers home opener began with a threat of a blackout. It ended with a dominating display on both sides of the ball that helped the Chargers start 2-0 for the first time since 2006.
The Chargers promoted today's home opener as a "White Out." Apropos to the weather, Sunday was "White Hot Sunday" and the Qualcomm was filled (relatively speaking) with fans decked out in white. The effect was to create an even stronger home field advantage than already existed. Such an advantage was likely unnecessary. The Chargers swarmed 2nd year starting QB Jack Locker, muted the rushing attack of Chris Johnson, and held the Titans to 212 total offensive yards and 10 pts. The defense has now registered its second straight dominating performance though next weeks matchup against Matt Ryan and the Falcons will likely be a better barometer. But no one is complaining. You play who is on your schedule. And in two games, the Chargers defense has clearly been improved upon last season.
Offensively, the Chargers were dealt some bad news pre-game when Antonio Gates (ribs) was ruled out for this game. Not that his job is in trouble, but he may want to try and rush back. Because backup Dante Rosario had himself a day. Four catches, 48 yards, and 3 TDs. He found space consistently in the endzone and Rivers found him. Malcolm Floyd, while failing to get into the endzone, went 6 catches and 109 yards, further establishing himself as Rivers favorite target aside from the aforementioned Gates. Rivers, for his part, threw for 284 yards and 3 TD with 1 pick.
But perhaps the most surprising part of this game was the emergence of something that vaguely resembled a run game. Ronnie Brown (4 attempts for 8 yards) is not the answer. To any question. Ever. Curtis Brinkley has been serviceable if unremarkable. But it was Jackie Battle, the free agent signing from Kansas City, that made the most impressive display. 14 attempts for 69 yards and 2 TD, Battle had the benefit of being in the game late, when the Tennessee defense had been on the field for what felt like the entire game (Time of Possession: SD 43:39; TEN 16:21) and at a time when San Diego was in a position to run the clock out. But he also appeared to more capable of spotting the holes (admittedly larger holes than earlier in the game) and ran more downfield than Brown. Ryan Mathews job is safe. But I don't think Ronnie Brown's is.
Finally, on a celebratory but sobering note, today the Chargers retired #55 forever. Junior Seau left this world far too soon. There are far too many issues and angles regarding this situation to ever be covered by this writer. Needless to say, a well-deserved honor was bestowed on the greatest defensive player in San Diego Charger history. Joining Lance Alworth (#19) and Dan Fouts (#14), Junior Seau's #55 will never be worn by another Charger again. As it should be.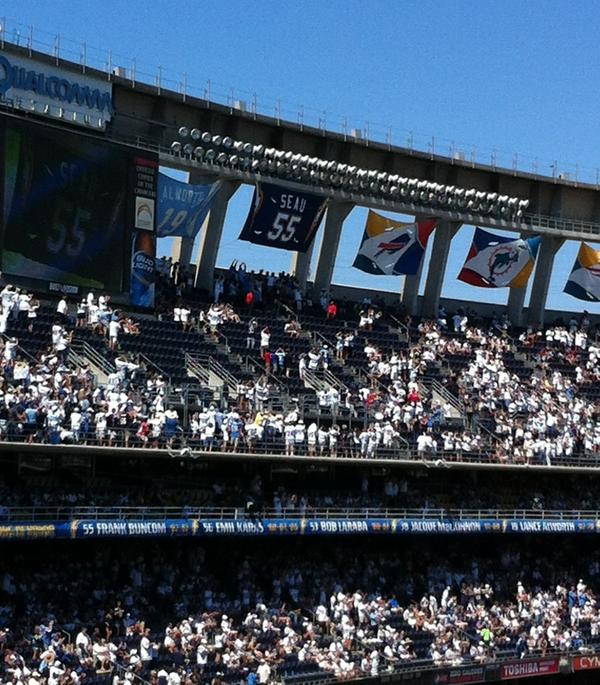 Up next: Atlanta Falcons